HNB partners with Unimo for offers on DFSK and Z100 range of vehicles
Sri Lanka's leading private sector bank HNB PLC in partnership with Unimo Enterprises Limited, a fully-owned subsidiary of United Motors Lanka PLC, offering customers vehicles with a down payment of 30 percent of the value of the vehicle.
The partnership will provide customers with convenient leasing solutions for a limited stock of DFSK 7seater SUVs, Glory 330 MPVs and Z100 compact cars during the promotional period. HNB Deputy General Manager- Retail and SME Banking, Sanjay Wijemanne and United Motors Lanka PLC's Group Chief Executive Officer/Executive Director, Chanaka Yatawara signed an MOU at United Motors Lanka PLC.
Speaking at the ceremony HNB Head of Personal Financial Services, Kanchana Karunagama stated "We are excited to offer our loyal customer base unparalleled discounts and special benefits for a range of Unimo vehicles. We have continued to partner with leading automobile dealers in Sri Lanka in a bid to offer our customers the best possible financial solutions to get their very own vehicle and we believe partnerships of this nature will deliver flexible and innovative leasing solutions to meet their needs,"
During the promotional period, HNB will offer customers a host of benefits, including a special interest rate and customized leasing facilities, tailor-made to suit each customer's budget and income.
Additionally, HNB Assurance will provide customers with discounted insurance premiums and a free life insurance cover of Rs. 4.5 million to cover accidental deaths. In case of the demise of the insured customer due to natural causes, HNB Assurance will offer Rs. 600,000 as a natural death insurance cover.
Similarly, Unimo will provide free vehicle registration facilities to HNB Leasing customers under the partnership. 
Chief Executive Officer of Unimo Enterprises Limited, Mahesh Gunathilaka stated "As a leading provider of automobiles in Sri Lanka, we have expanded our services to strengthening our assembly operations locally. We believe partnerships of this nature will offer customers convenient leasing solutions and unparalleled pricing".
Further information regarding the offer can be obtained from HNB customer centres and Unimo showrooms Island-wide or by contacting HNB on 011-2462462, or Unimo on 0117 565 100
About Unimo Enterprises Ltd.
Unimo Enterprises Ltd, a fully-owned subsidiary of United Motors Lanka PLC, offers a range of automotive brands such as Perodua Compact Cars from Malaysia, JMC Commercial Vehicles, DFSK MPVs & Z100 from China, DFSK SUVs from Indonesia & Yokohama tyres from Japan. The Company's branch network is strategically located in Anuradhapura, Kandy, Matara, Nugegoda, Nuwara Eliya, Ratnapura, Kelaniya ,Kadawatha, Badulla & Jaffna.
About HNB

With 252 customer centres across the country, HNB is one of Sri Lanka's largest, most technologically innovative banks having won local and global recognition for its efforts to drive forward a new paradigm in digital banking. Over the recent past, the bank has continuously won prestigious accolades including being declared Best Retail Bank in Sri Lanka by the Asian Banker Magazine. Locally, HNB leads the Business Today Top 10 rankings and also claimed seven awards at the Best Corporate Citizen Sustainability Awards 2019. The first Sri Lankan bank to obtain an international credit rating, HNB is rated on par with the sovereign by Moody's Investors Service, and the national long term rating of HNB revised upward by two notches to AA+ (lka) recently by Fitch Ratings (Lanka) Ltd.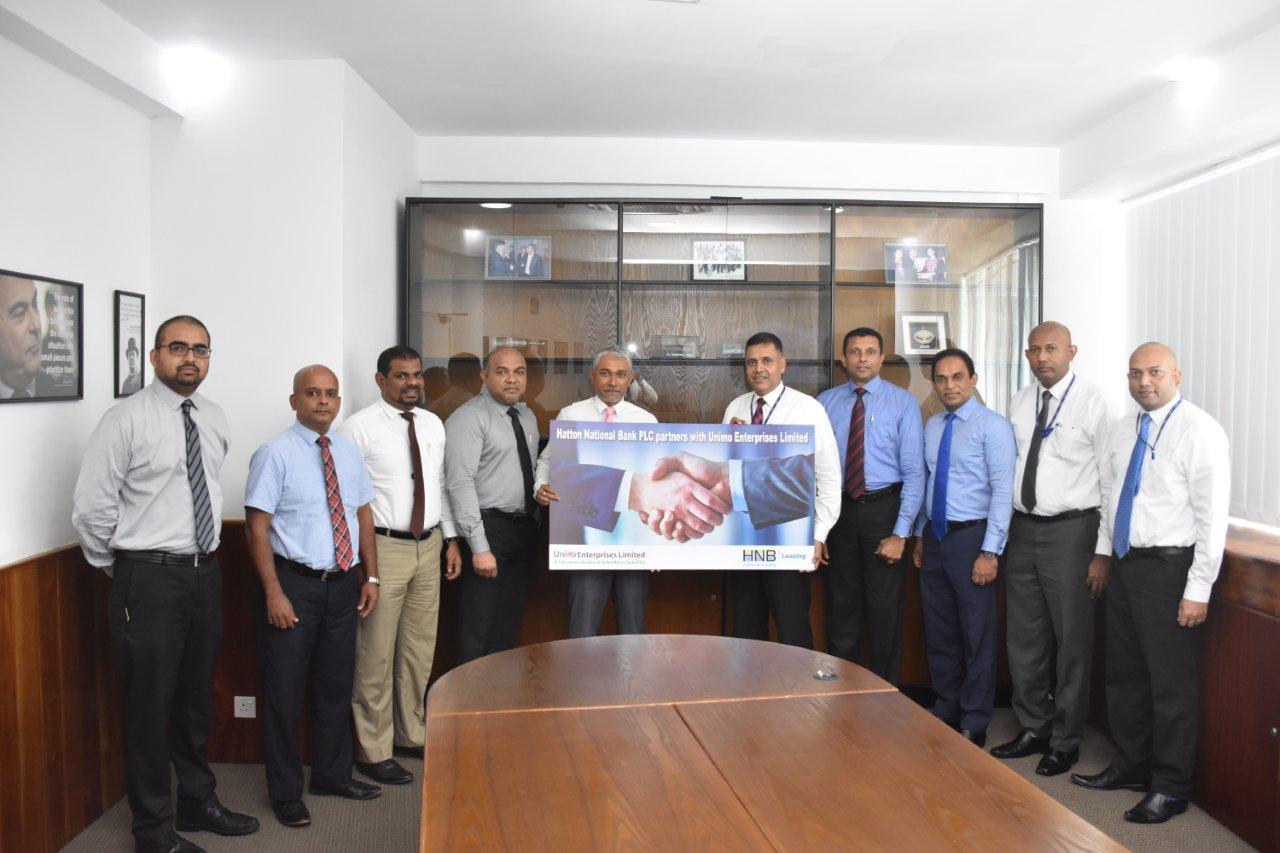 From Left: United Motors Lanka - Deputy General Manager- Marketing, Shalain De Silva, Assistant General Manager (DFSK), Nilantha Nanayakkara, Assistant General Manager (Z100), Shirantha Palliyaguru, Unimo Enterprises Limited, Chief Executive Officer/Executive Director, Mahesh Gunathilaka, United Motors Lanka PLC Group Chief Executive Officer/ Executive Director, Chanaka Yatawara.
Sanjay Wijemanne, Deputy General Manager Retail & SMEBanking (HNB), Kanchana Karunagama, Head of Personal Financial Services (HNB), Niluka Amarasinghe, Senior Manager-Leasing (HNB), Roshan De Silva, Assistant Manager- Leasing, Mahesh Ratnayake, Executive-Business Development (HNBLeasing)